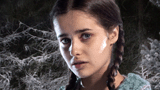 Actress Holly Earl stars as Lily Arwell in this year's Doctor Who Christmas special, which sees the Doctor (Matt Smith) find himself in war-torn England embarking on a magical and mysterious adventure with a young widow and her two children.
Recently seen on medical drama Casualty as Nita Clements, Holly has also appeared in My Hero, Wild at Heart and The Ruth Rendell Mysteries.
The Doctor, the Widow and the Wardrobe will air at 7pm on Christmas Day on BBC One.
CultBox caught up with Holly to find out more…
Can you tell us a bit about your character Lily Arwell?

"Lily goes on quite a journey throughout the episode. She's quite a strong-willed character. You know, she's a 15 year old in 1940s and she's quite bored with her life.
"She has a bit of an attitude I think, when you first meet her, but when she meets the Doctor you realise that she's actually a sweet person underneath and she cares deeply about her family."

How does the story affect her?
"She pretends to be older than she is and she realises that she is just a child and kind of goes along with the fun of it all really."

How long was the shoot? Was it strange filming Christmas in September?
"It was a month filming in Cardiff, which was really exciting. It was really strange, yeah. We did the scenes in the forest with the snow and because it was September there were some really sunny days! So it was quite bizarre but really magical, they covered an entire forest in snow."

How Christmassy would you say the episode is, on a scale of 1 to 10?
"I would say it's pretty Christmassy, I'd even dare to give it a 10!"

Are you going to be watching the episode when it goes out on Christmas Day?
"Yeah, I'll be sitting there like everyone else, probably a bit nervous! I haven't seen it yet so I'm really excited. When you're there you don't see all the special effects. I know that [director Farren Blackburn] has some great stuff planned."

Did you see the trailer when it aired the other week?
"I did, yeah! I got really into it; I forgot I was even in it! I was just watching Children in Need and didn't know it was going to be on."

You've got Claire Skinner playing your mum, what was she like to work with?
"She is just so lovely. How lucky am I getting to work with Claire Skinner? She's so funny as well; we had a good laugh on set. I'd seen a few episodes of Outnumbered, I think it's hilarious, luckily I wasn't too star struck when I first met her."

I imagine that you, Claire and Maurice Cole had lots of scenes together. Did you start to feel like a family?
"Yeah, we definitely did. Little Maurice is like my brother now, he's such a character.
"He's so talented and so mature for his age. He's got wisdom far beyond his years! Even when we first met we felt like a family and all had a connection."
What was Matt Smith like to work with?
"Oh, Matt Smith is so much fun, I'm so lucky! He's just got so much energy; he always brings out the best in you every take. His energy makes him such a good Doctor. Even in between takes he was so much fun, he was a dream to work with. He was really welcoming."

With no Amy and Rory in this episode, does Lily take on the companion role a bit?
"I kind of come in as a companion-like character, I wouldn't go as far as to say I was a companion. We had to create some kind of friendship, which was easy with Matt."
Did you enjoy the 1940s setting?
"The first costume fitting I had was so exciting because you just don't experience that in real life! I had this fabulous turquoise dressing gown that I had to wear, which I think they made specially. I love all things period drama so it was wonderful."
Did you get to keep any costumes or props?
"I think they like to keep everything! I did try to get a sneaky something but I don't think I'm allowed."
What are you favourite memories from the shoot?
"We were filming at a big mansion house where they get evacuated too and there were these cows in a field. I don't know how they escaped but they started to slowly edge closer. You're filming a show and there's a cow wondering across in the background, that was bizarre!
"It was all so fun, I just felt really grateful to be there. It wasn't like working at all; doing Doctor Who is just like playing!"

Were you a fan of the show before you got the part?
"I wouldn't say I was a massive fan but I'm definitely converted now and will be watching every week when it comes back next autumn."
Would you like to return to Doctor Who as Lily if the opportunity ever came up?
"Definitely, definitely, I wouldn't say no!"
What was Bill Bailey like to work with?
"I didn't have any scenes with him but I did see him wondering around in his costume, which looked very uncomfortable I have to say!"

You're joining the cast of Skins for Series 6, which begins on E4 next month. Can you tell us a bit about your character, Poppy?
"I'm only in one episode, but I'm in that episode quite a lot. I can't reveal too much, but don't expect to see the same character as I am in Doctor Who!
"Poppy is a completely different kettle of fish. She's kinda in her own little world. She knows how to get what she wants, I'll say that much."

How was filming and was it strange joining the cast after they've already done a year together?
"They were all really welcoming. I'd never really done a show with people my own age. I'm 19 and I usually play younger. We did quite a few party scenes. You have a lot of laughs on the Skins set!"

Do you remember much about playing the young Kochanski in Red Dwarf back in 1999?
"Yes, I do, you've done your research! I was about 7, I remember being very amazed being on a sci-fi set.
"I didn't realise when I was that young quite how big the show was. I remember being fascinated by the guy with the odd shaped head!"
> Buy the Series 6 DVD boxset on Amazon.
> Buy the Series 6 Blu-ray boxset on Amazon.
Watch the trailer…
Are you looking forward to the Christmas special? Let us know below…